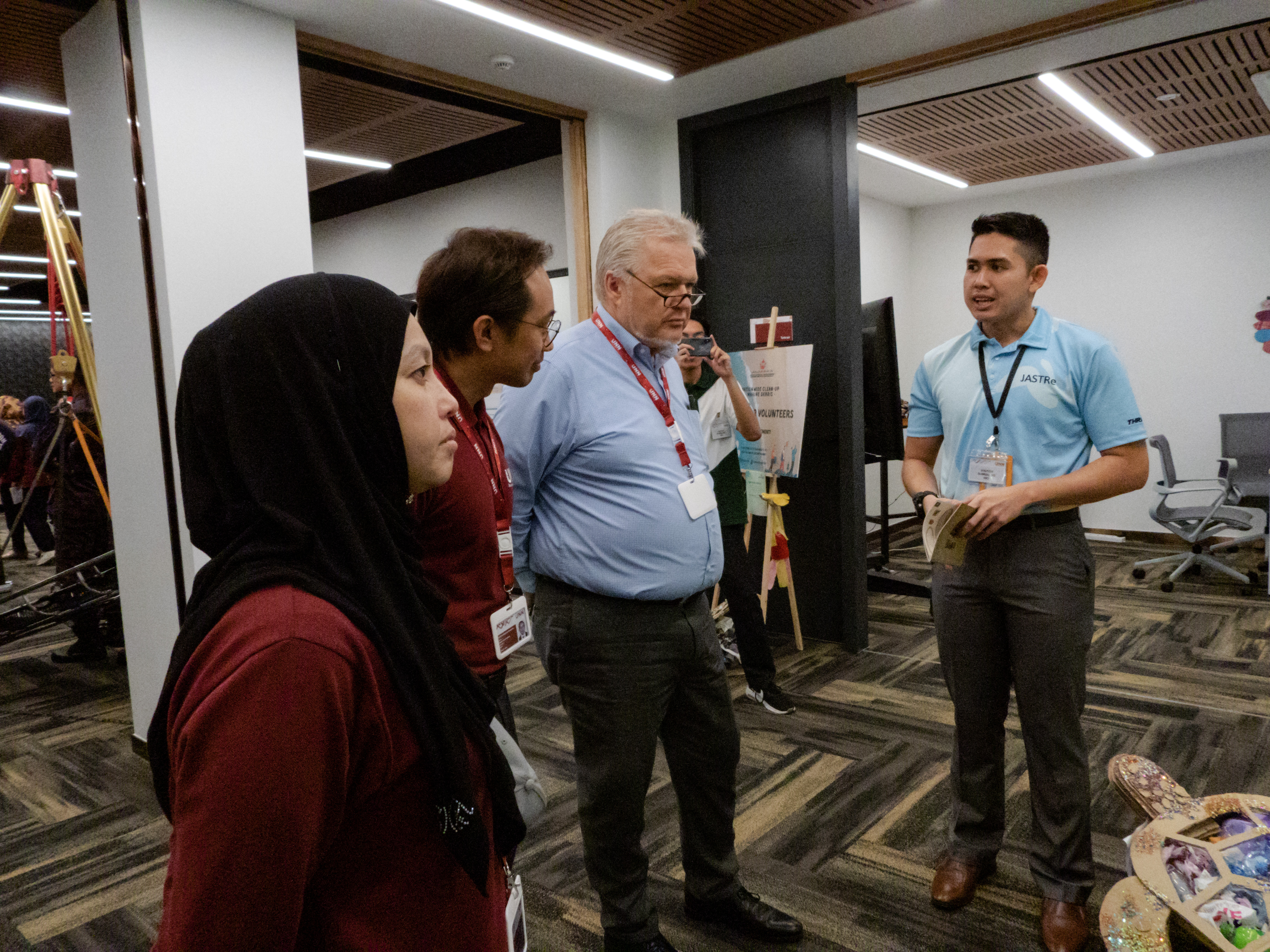 Unified National Networks (UNN) held its first Safety Day knowledge exhibition for its colleagues on 30th June 2021 at UNN Telephone House (TelHouse) where more than 130 UNN colleagues (visitors) attended the exhibition that day.
Participating agencies from National Road Safety Council (MKKJR), Brunei Fire Rescue Department (Bomba), Department of Environment, Parks and Recreation (JASTRe), and Ministry of Health (MOH) specifically from the Health Promotion Centre (HPC), Tobacco Unit, Mental Health Unit, Workplace Health Program Unit, and Occupational Health Division (OHD) were invited to provide a myriad of health, safety and environment information relevant for a workplace.
MKKJR set up a seat belt convincer to illustrate the beneficial use of seat belts when a vehicle is involved in low-speed collision. Visitors to UNN Safety Day were able to safely experience the force generated during a 5-10 kmph crash. This simulation exercise showed visitors how effective a seat belt can be in keeping a person in their seat and reducing movement. Representatives from MKKJR also provided a guide on how to inspect a vehicle before driving i.e. what to check for and how to check these components.
Bomba displayed the use of a rescue tripod especially used in situations where the rescue involves tall buildings, high places like mountains, or confined space access like jungles. Representatives from Bomba also exhibited statistics of house and building fires in Brunei, and the usual components that cause fire such as the use of non-approved gas pipes, faulty wiring, overloaded and overheated wiring, and overcharged electrical appliances.
As part of the Mental Health Unit, representatives from HPC educated visitors about the different mental illnesses affecting people in a workplace. HPC also introduced the i-Mind program that can be tailor-made to a company to support its employees and address shortcomings such as absenteeism, reduced productivity and high staff turnover that could be caused by negative working environment, and how the company can achieve work-life harmony by taking care of the mental health of its employees.
Tobacco Unit promoted its Smoking Cessation Clinics and how professional counsellors and nurses at these clinics help smokers quit their smoking (or nicotine) habit. The rehabilitation program includes free counselling and medication for a period of 6 months. Counselling sessions would be done weekly in the first month, fortnightly in the second and third month, and monthly in the remaining months of the rehab program. Dosage of the medication would be determined by the level of carbon monoxide in the smoker's system that are detected with a smokerlyzer monitor at these clinics.
Visitors were also provided with useful pamphlets created by OHD on tips to handle work-related musculoskeletal disorders due to ergonomic stressors, techniques to proper manual handling, ergonomic principles of working with a computer, and other facts on the causes of work stress and how to manage them.
JASTre explained to visitors its scope of work and its assets such as Environmental Management & Conservation, Landscape Management & Recreational Parks, and Waste Management. Art pieces created by local artists for World Environment Day this year with the theme Ecosystem Restoration were also displayed at the UNN Safety Day and provided visitors with information of what inspired the art pieces and what important message they convey. Representatives from JASTRe also called upon visitors to volunteer for the national clean-up campaign organized by JASTRe, MOH, Ministry of Development and Ministry of Home Affairs.
While visitors enjoy the exhibitions, they were also treated to a blood pressure and BMI checks conducted by MOH representatives as part of their basic health screening program.
The 1-day exhibition was organized by UNN Health, Safety & Environment (HSE) team to raise awareness on the importance of health and safety in day-to-day operation at the workplace and to cultivate a health and safety culture across the company.
UNN Chief Executive Officer Dr Steffen Oehler launched the UNN Safety Day 2021 that morning, where he said, "This is our first UNN Safety Day and it probably gives a clear sign that health and safety are becoming part of our daily business, our operations, and our culture in UNN. For us, this is a starting point to not only focus on safety but also focus on health and environment."
"Moving forward, we hope to have more collaborations with relevant agencies to provide talks, forums and clinics and ensure that our colleagues and their well-being are taken care of. We are creating more awareness among UNN staff on the importance of health, safety and environment for our business and we appreciate the support provided by the participating agencies Road Safety, Bomba, MOH, and JASTRe for being here today and enriching our colleagues' experience in all safety-related matters," said Dr Steffen.
The official launch concluded with the presentation of token of appreciation by Dr Steffen to participating agencies from MKKJR, Bomba, JASTRe and MOH. Also present were UNN senior management team, UNN HSE team and UNN employees.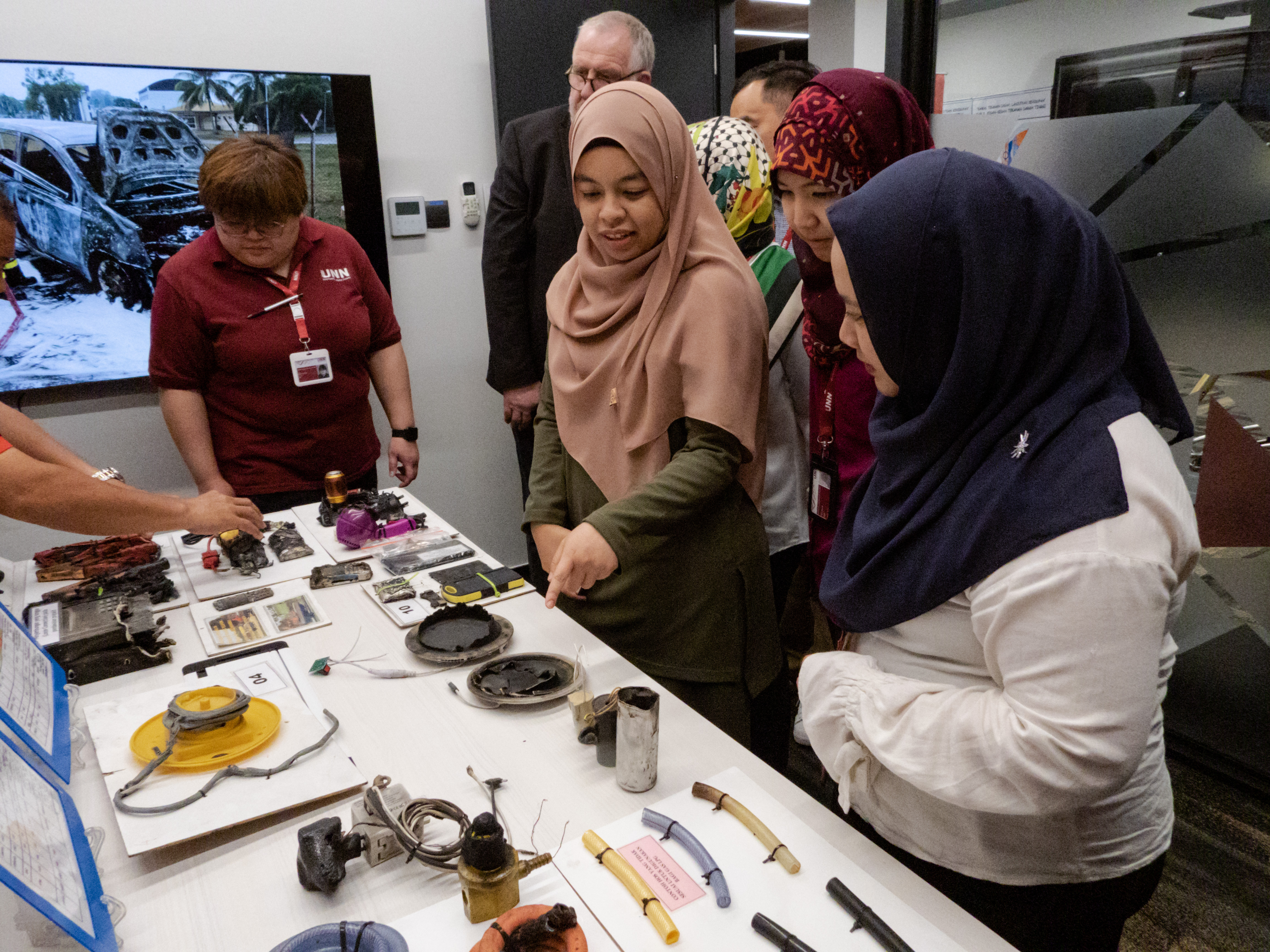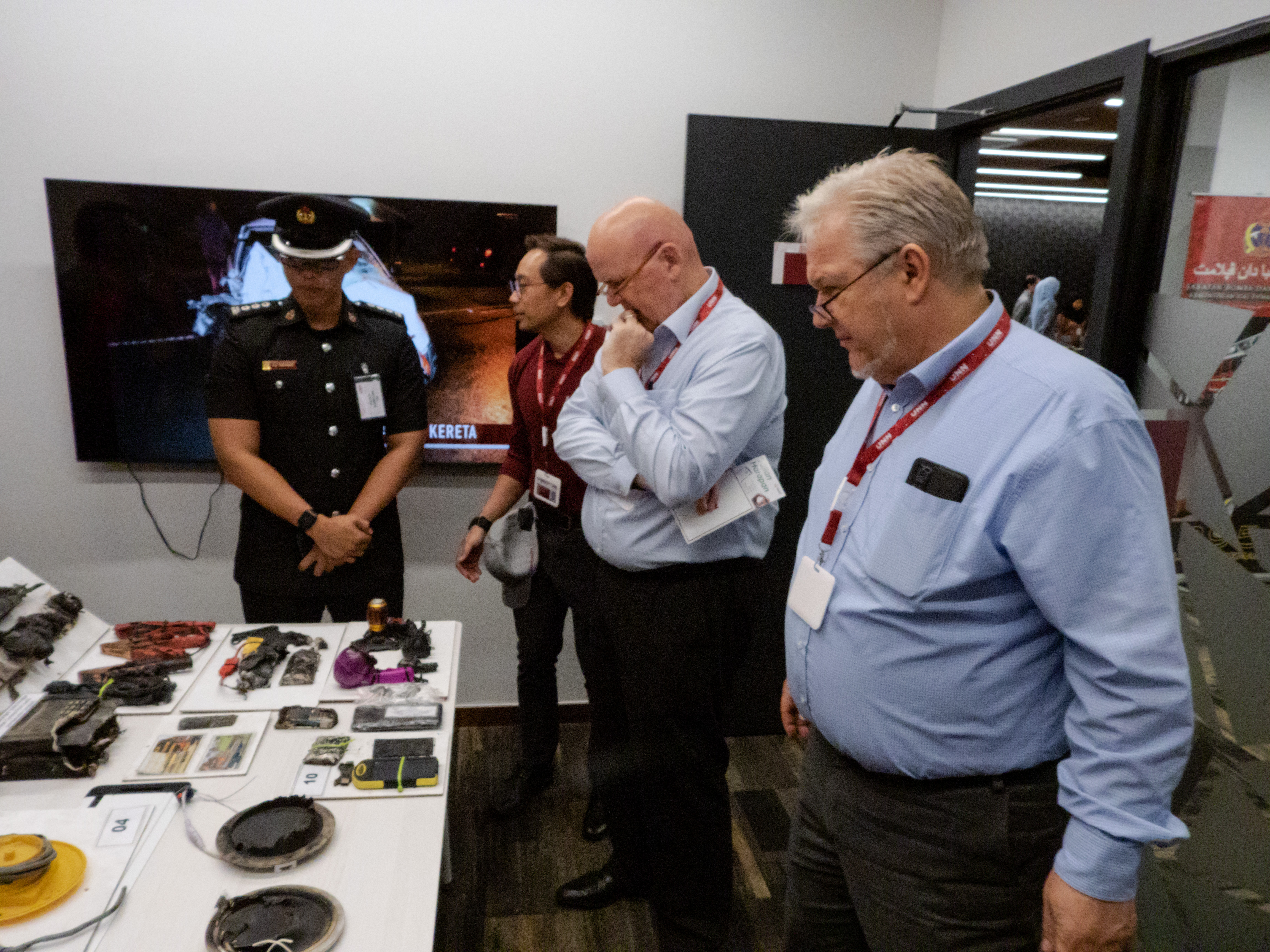 back