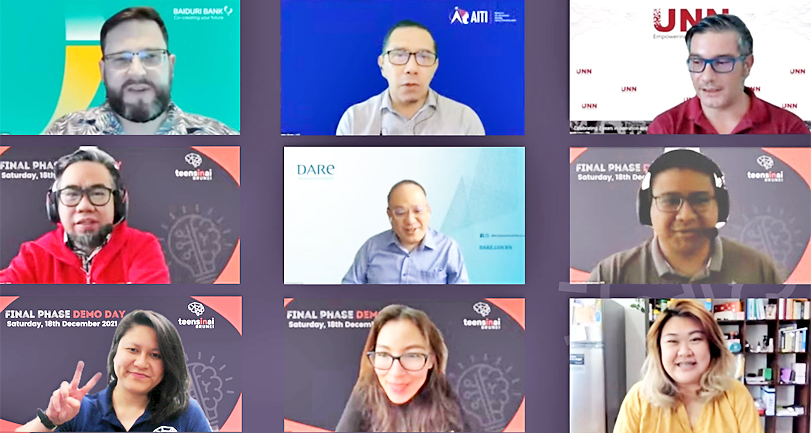 Financoin snatched the top spot in the "Teens in AI" programme that ended on Saturday, 18 December 2021 with a virtual Demo Day.
Financoin's idea was to promote financial literacy by helping the youth stay dedicated in keeping track of finances through providing a multi-functional budgetting platform with exchangeable rewards.
The second place went to AI Fourturistics while 3 REKA was second runner-up.
AI Fourturistics worked on EnvironCycle, an app that encourages recycling by providing easy access to information and data for the users to easily start recycling via their geo-locator feature while 3REKA offers a rubbish-sorting scanner that provides a rewards-based system to encourage recycling.
Teens in AI was initiated by the Founder and CEO of Teens in AI and Acorn Aspirations Elena Sinel. It was launched at the United Nations (UN) Artificial Intelligence (AI) For Good Global Summit with the mission of increasing diversity and inclusion in AI and empowering young people to solve real-world problems through AI. The vision is for AI to be developed by a diverse group of thinkers and doers advancing AI for humanity's benefit.
The best teams were decided by a panel of judges from sponsor organisations: Authority for Info-communications Technology Industry of Brunei Darussalam (AITI) Chief Executive Officer Haji Jailani bin Haji Buntar; Unified National Networks Sdn Bhd (UNN) Senior Vice President of Data Centre & IT Factory Daniele Cuocci; Baiduri Bank Berhad Chief Technology Officer Simon Hansman; DARe (Darussalam Enterprise) Head of Industrial Site Management Daniel Leong; Brunei Shell Marketing Sdn Bhd (BSM) Innovation Lead Za'im Ismail; Brunei Shell Petroleum Company Sdn Bhd (BSP) Data Scientist Mohammad Ahmad Musaddiq; and Training Associate at Pinnacle by Golder Equator Angie Ang.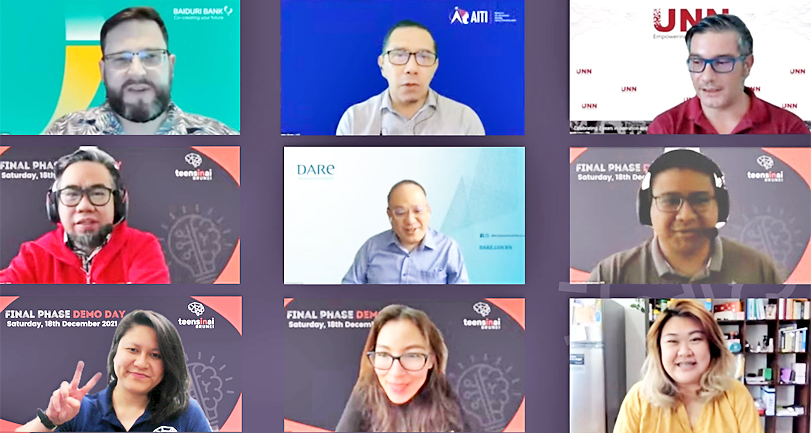 Hansman said, "The amount of depth and thought that the teams put into their proposals was very impressive. The maturity and creativity demonstrated is very encouraging and has made judging a fun and exciting experience."
DARe CEO Javed Ahmad said the programme exposed participants to future-ready skills and applying them to solutions that could benefit society in the long run. "The skills being taught in this programme can lead the way to innovation that could benefit society and Brunei's economy in the future."
The programme was a collaboration between DARe, BSP, Baiduri Bank, BSM, UNN and Dynamik Technologies Sdn Bhd, supported by the Science Technology Environment Partnership (STEP) Centre at the Ministry of Education (MoE) with the AITI as a strategic partner.
BSP Social Investment Advisor Amalina Harun, who is one of the business mentors of Teens in AI Brunei, said, "BSP supports the Teens in AI programme as it nurtures AI and entrepreneurial skills for our young Bruneian talents, which helps them to be future-ready to seize the opportunities of the industrial revolution and to increase readiness to manage uncertain times. This programme is truly a unique experience for the students as they are challenged to think outside of the box. To be future ready – we need to equip ourselves with the right skills that are easily adaptable to the rapid developments in technology. It is important that professionals from the industry continue to support the programme, share their knowledge and expertise to develop and enhance the AI capabilities, skillsets and problem-solving capabilities of our Bruneian youth."
Meanwhile, UNN CEO Dr Steffen Oehler said, "Digitalisation is all about data. Initiatives, where young people are learning to transform data in information are great as they are creating the base for the skilled jobs of the future. We are looking for such young talents."
Article and picture source: https://borneobulletin.com.bn/nurturing-next-generation-of-out-of-box-thinkers/
back