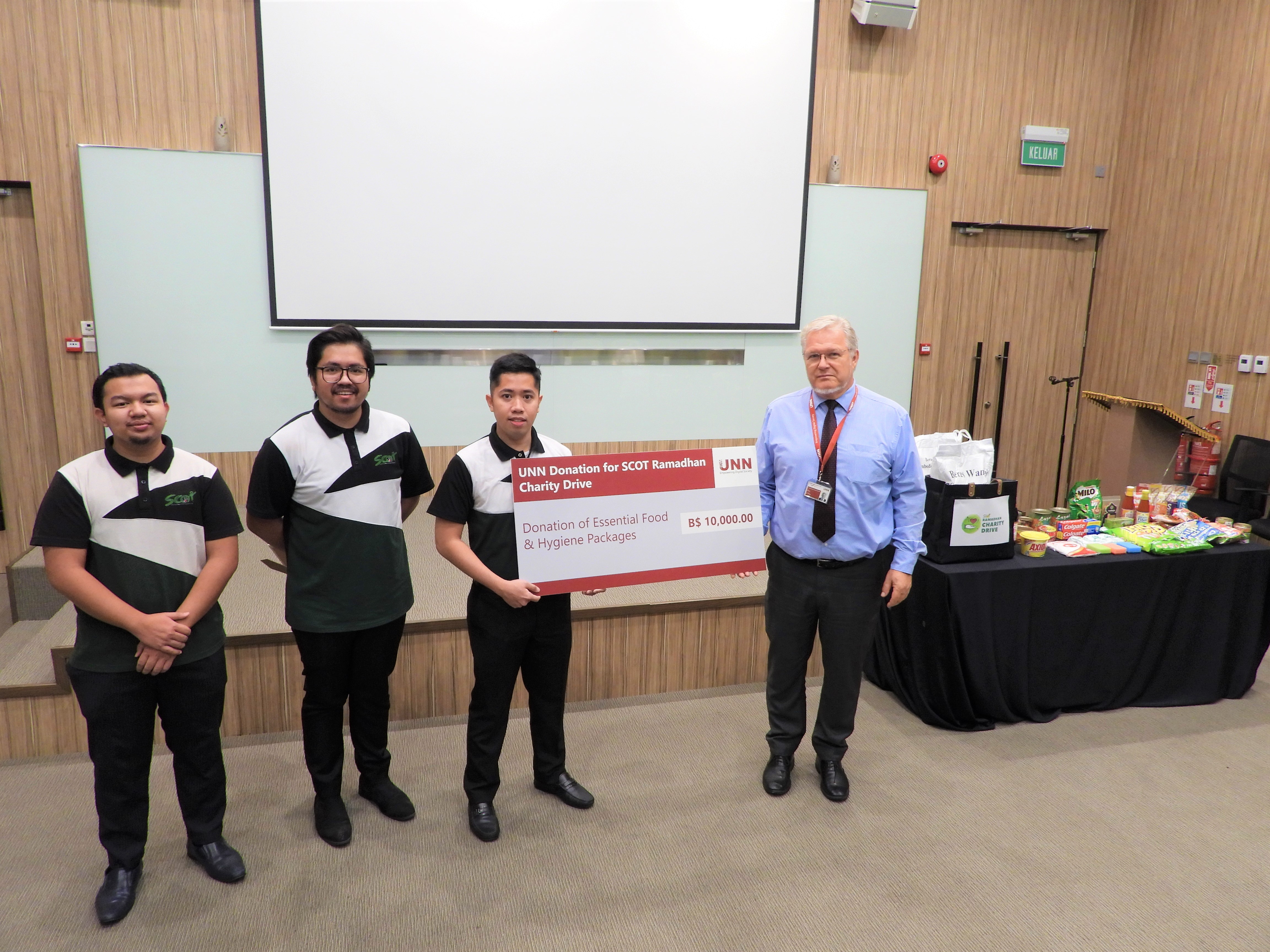 06th May 2020
In this year's Ramadhan, UNN reached out to SCOT Brunei to support their initiative #berkongsirezeki to help alleviate the burden of 120 socioeconomically challenged families as they prepare for the months of Ramadan and Shawal.
The initiative was launched on 1st Ramadan 1441 hijrah / 24th April 2020 in collaboration with kadairuncit.com, Darussalam Enterprise (DARe) and Ghanim International Corporations (Brunei Halal Foods). Under the initiative, the public could either submit their donations online via kadairuncit.com or purchase various packages that consist of household necessities to be distributed to each family, amounting to 6 packages altogether.
On 6th May 2020, UNN presented a donation to the Society for Community Outreach and Training (SCOT) Brunei to support the Ramadhan Charity Drive 2020, amounting to $10,000 for the supply of essential food and hygiene packages. Our CEO, Dr. Steffen Oehler, was in attendance to hand over the mock cheque to the President of SCOT, Anwar Mohammad, accompanied by the Director, Ahmad Syauqie bin Haji Satia. The donation is part of UNN's CSR initiative for the month of Ramadhan, as one of our humble gestures to give back to society, especially in helping the underprivileged cope during the COVID19 outbreak.
According to SCOT, the initiative would also help support a number of local Micro, Small and Medium Enterprises (MSMEs) to ensure that their local products and businesses continue to remain active despite being largely affected by the global virus pandemic.
Contributions to the 120 families will be made in stages so that social distancing can be carried out as recommended by the Ministry of Health, Brunei Darussalam. The donation will be sent directly to the recipient's homes by volunteers comprising members of the SCOT Brunei Association as well as representatives from UNN.
back