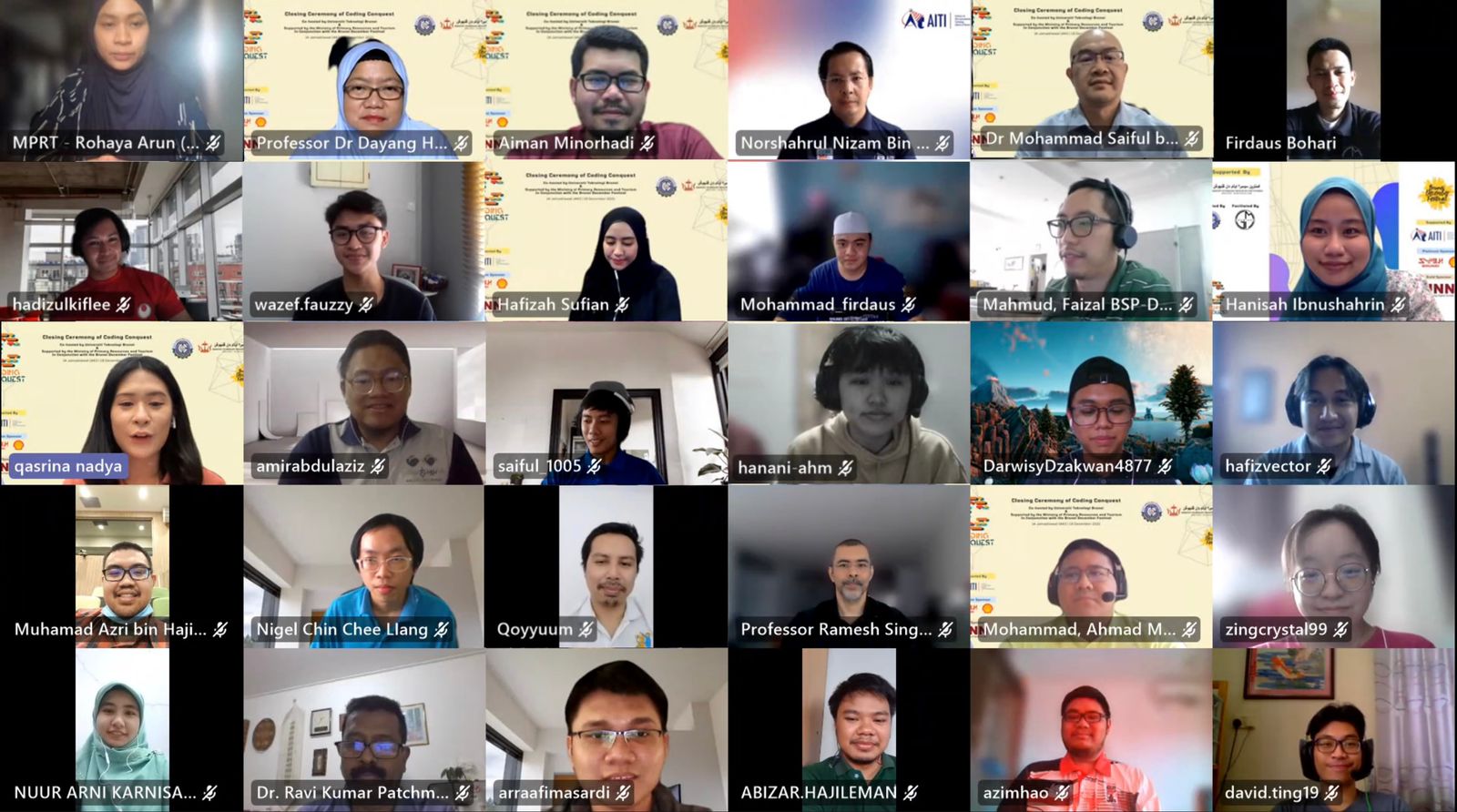 Brunei Coding Conquest 2021, held in conjunction with the Brunei December Festival 2021, concluded with a prize presentation to the top teams on 19 December 2021.
The hackathon, which is a platform for youth and technology enthusiasts to solve problems through innovative solutions, was held from December 13 until 18.
The conquest was co-hosted by Universiti Teknologi Brunei (UTB) through its School of Computing and Informatics, supported by the Ministry of Primary Resources and Tourism (MPRT) and Authority for Info-Communications Technology Industry (AITI), and facilitated by Grominda Sdn Bhd.
The event was sponsored by Brunei Shell Petroleum Company Sdn Bhd (BSP) and Unified National Networks Sdn Bhd (UNN).
At the prize presentation ceremony, remarks were delivered by Grominda Sdn Bhd CEO and facilitator of Brunei Coding Conquest 2021 Md Nur Aiman bin Haji Minorhadi.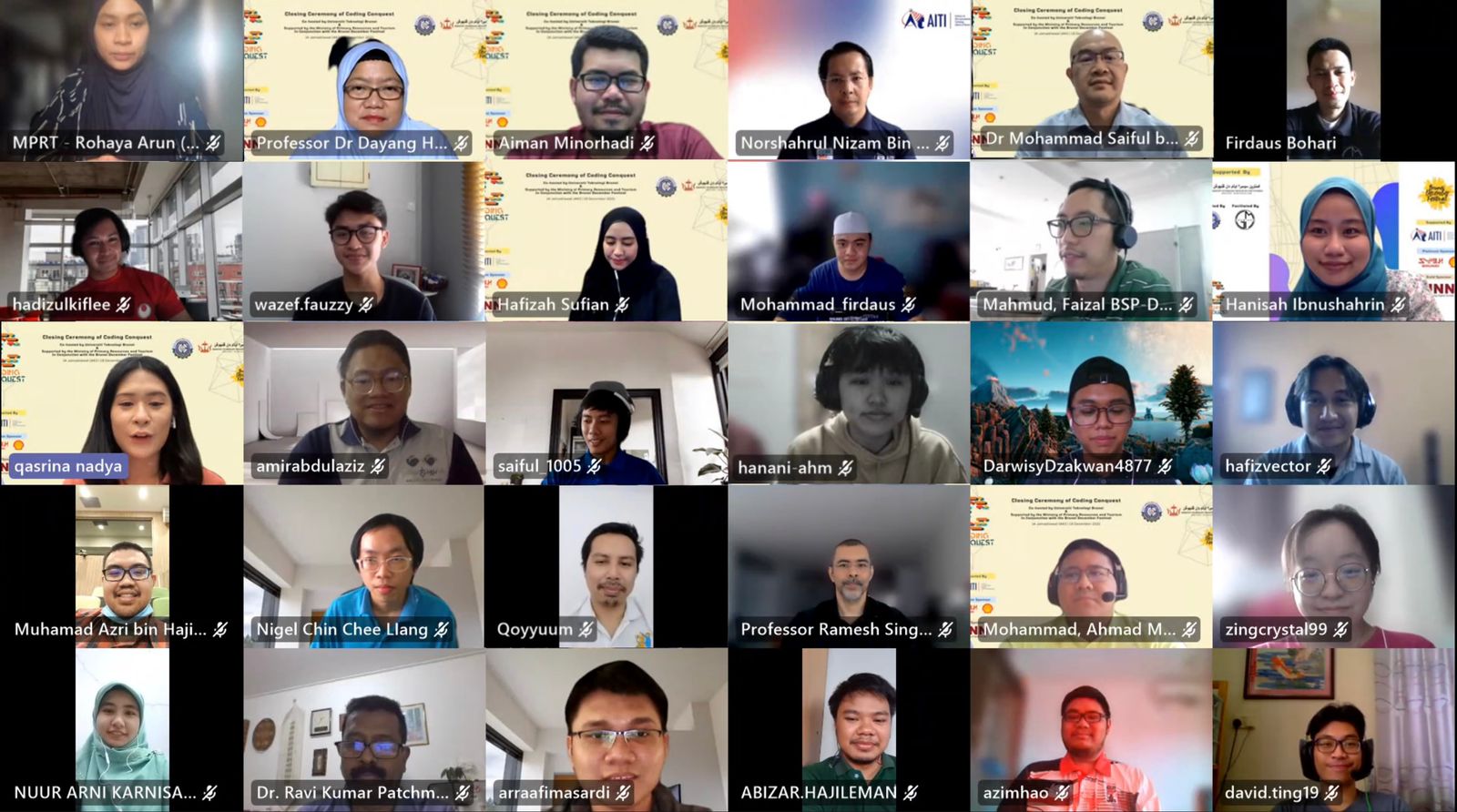 The ceremony concluded with a prize presentation by UTB Vice-Chancellor Professor Dr Hajah Zohrah binti Haji Sulaiman to first place for the Hackathon Kebun Kitani with BND700, while first runner-up Kenali Makan Kitani received BND500 from BSP Data Scientist Ahmad Musaddiq bin Mohammad. UNN Data Analytics Lead Hafizah binti Sufian presented second runner-up Farm Record Tracking System with BND300.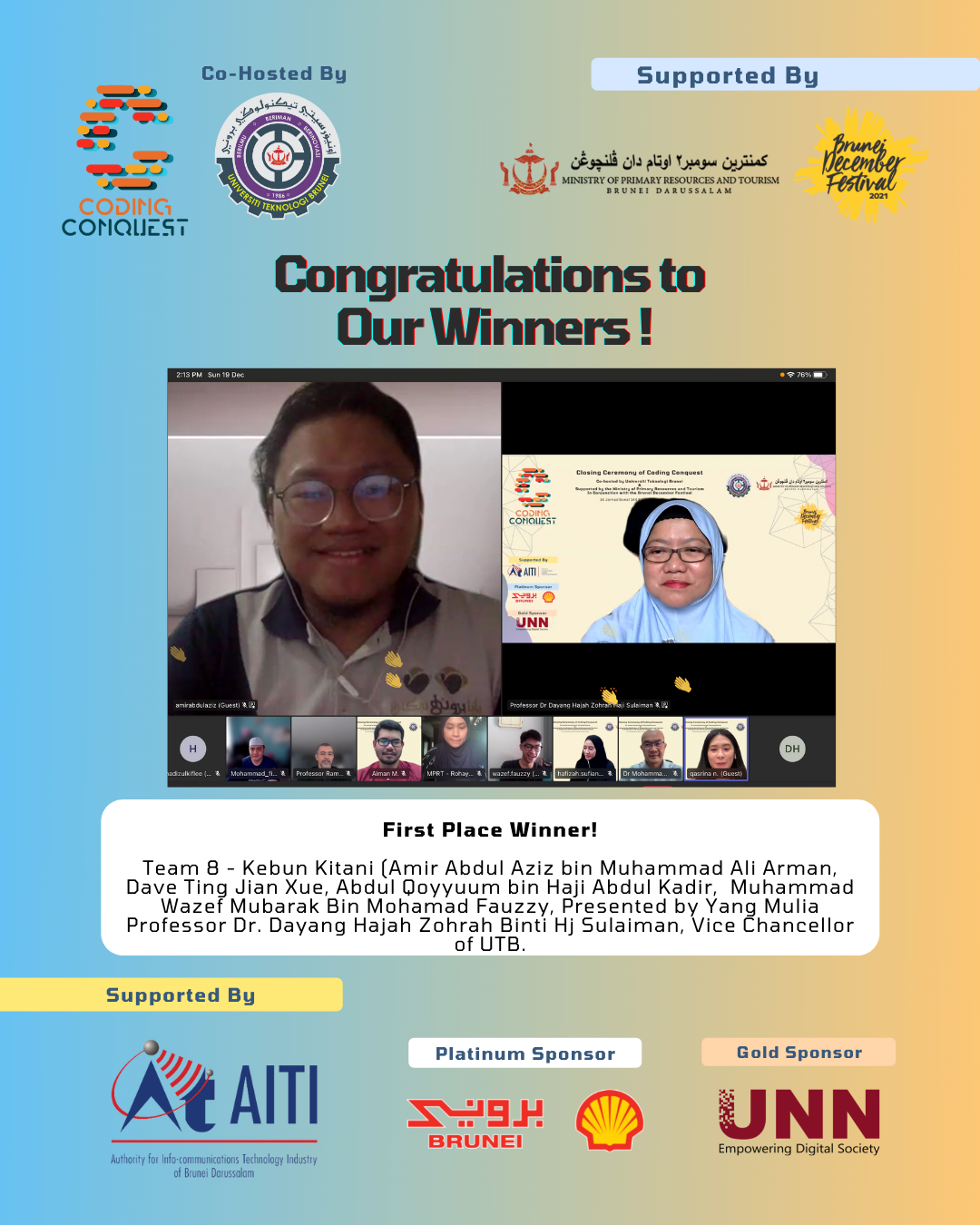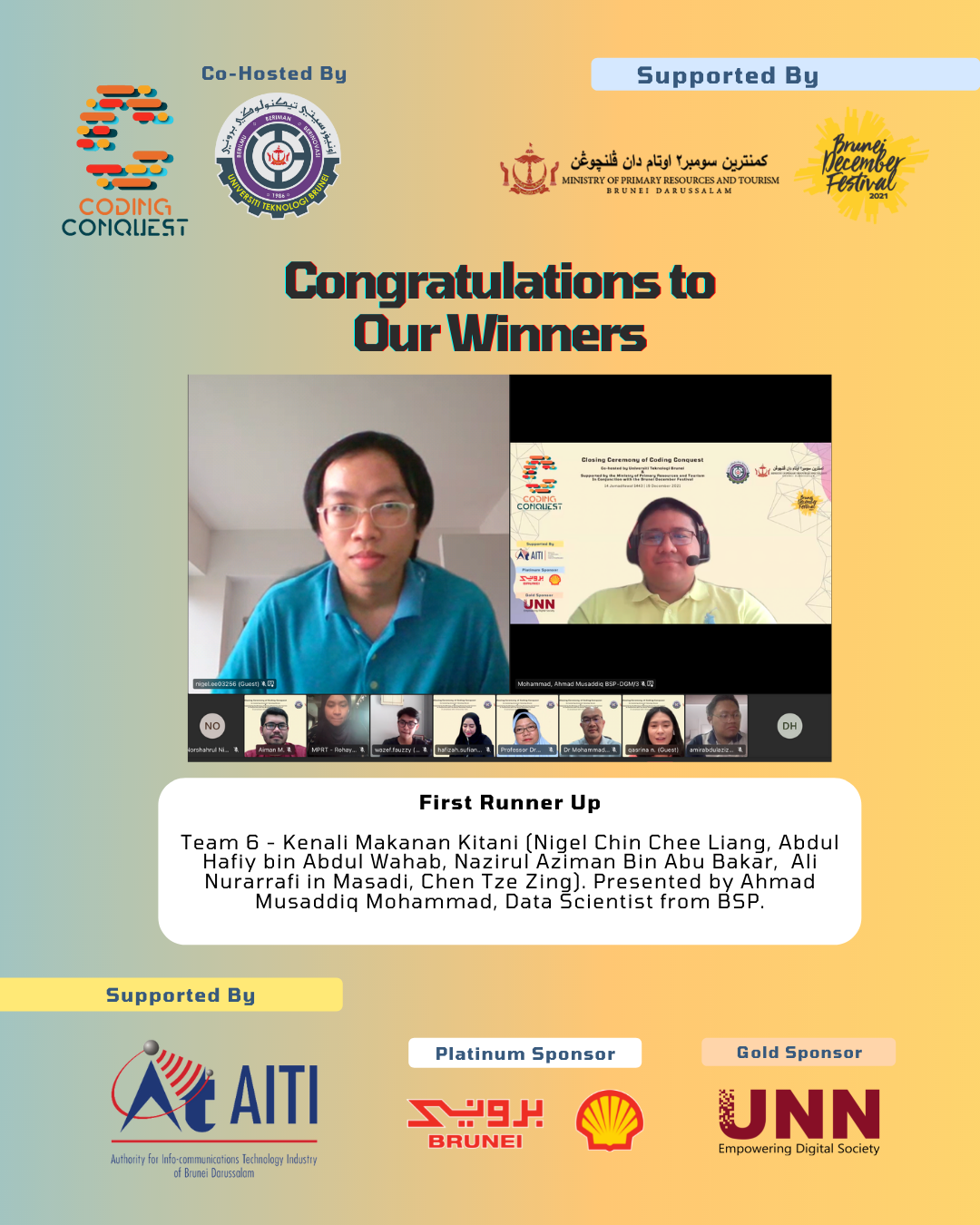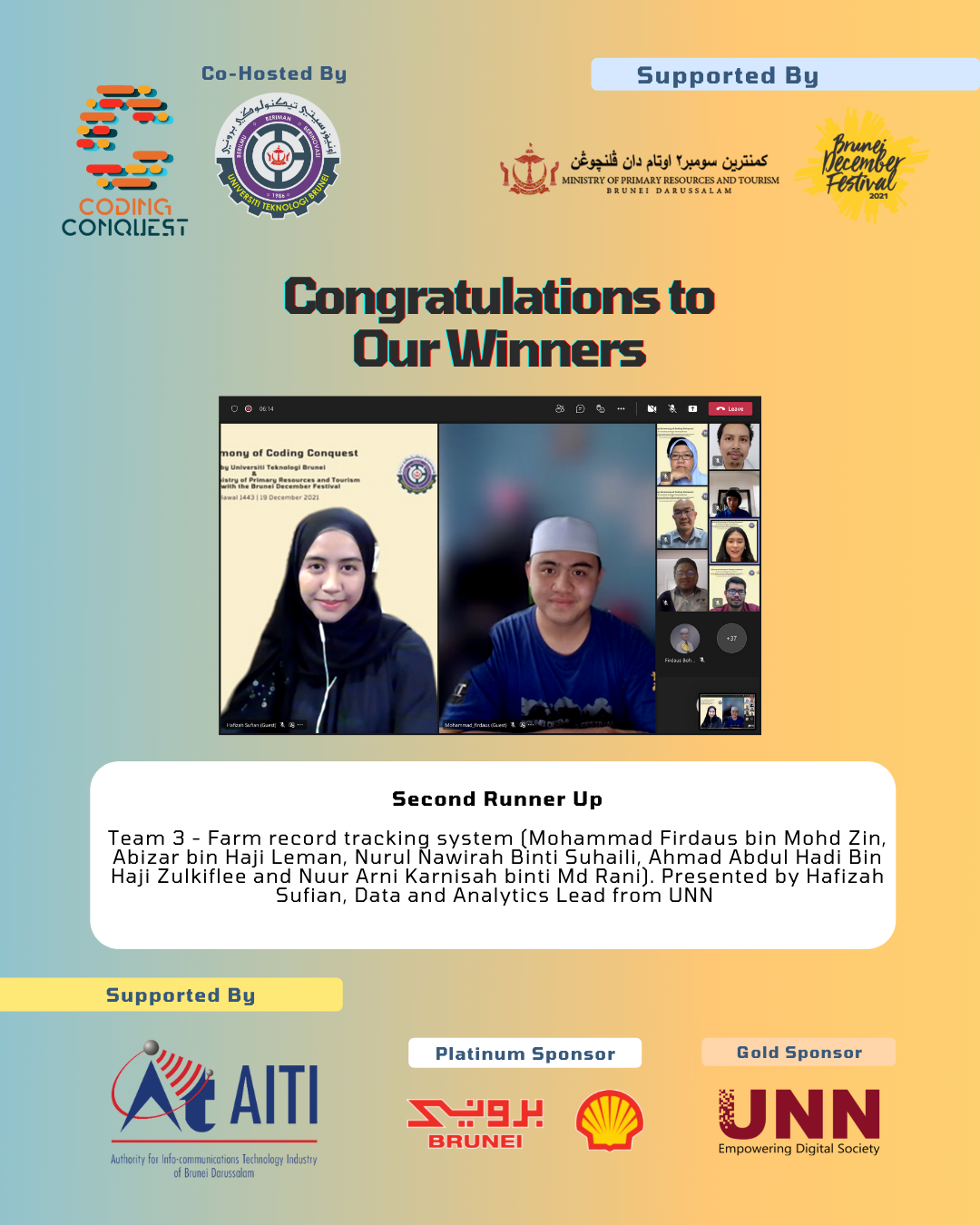 Following its first instalment in 2019, this year's Coding Conquest moved up from block-based coding into a programming language that is relevant in the present industry.
Forty-nine participants, divided into teams of four or five members, joined the competition.
The hackathon was divided into three sprints where participants were tasked to tackle current issues faced by various agencies and industries.
The sprints were designed to provide solutions on the areas of agriculture, tourism, food and beverage, and enterprise solutions starting.
Prior to the hackathon, participants went through a series of workshops that involved experienced trainers and mentors using the approach of in-depth learning and application of skill. They also attended a one-week training on design thinking, programming, presentation, and sprint planning.
Each sprint took two days to complete followed by a presentation to a panel of judges.
The solutions were judged on viability in the market, team capability, technologies integration or prototype, presentation and growth strategy.
Article source: https://borneobulletin.com.bn/best-hacking-teams-crowned/
Pictures source: Grominda Sdn Bhd
back